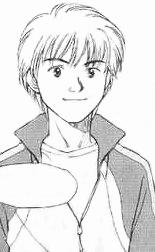 Yamakawa Tomoyuki is a substitute player at Musashinomori. He and Kazamatsuri Shou became friends when Shou shared his lunch with him during the Musashinomori entrance examination, and this friendship continued during their time as third-tier substitutes. Tomoyuki and Shou helped each other stay positive and focused in the difficult environment of Musashinomori, where the third-tier substitutes were treated more like errand boys. They were very close, calling each other by first names without honorifics.
When Shou found out he would never be given the chance to play soccer at Musashinomori and chose to transfer to Sakura Josui, Tomoyuki took it badly. He thought Shou was trying to take the easy way out by running away, and breaking the promise they had made to work hard together to become regulars. Refusing to listen to Shou's explanation, he declared that they were no longer friends.
After he saw the way Shou played in Sakura Josui's match with Musashinomori, he understood what it was that Shou had been trying to do, and that he had not been running away. During the half-time break of that game, he and two other old teammates of Shou's came to find him, and Tomoyuki apologised to Shou for what he had said, reaffirming that they were friends. Before he left, Tomoyuki wrote an encouraging message on Shou's right-leg leggars, telling Shou that while they could not openly cheer for him, their thoughts were with him, on his right leg: "If you dream, you can do it!"
First appearance: Volume 2, Stage.14.
"Whether you're a regular player or a substitute, soccer's soccer, isn't it? Musashinomori is our dream school. Being able to play soccer here, I think ... that alone should make us happy!"