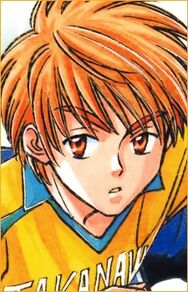 An offensive midfielder for Tokyo Select; his jersey number is 18. Though he was once in the Rossa soccer club, he dropped out prematurely. As a foil to Koiwa Teppei, he's relatively weak and is said to have bad stamina, but uses his head and has excellent ball control. Appropriately, he is the one who teaches Shou about "playing his strengths."
Appearances
[
]
Taki first shows up in Vol. 12 IN THE DISTANCE when he flops down on the field next to Shou to lie in the grass.
History
[
]
He qualifies for the Tokyo Junior Senbatsu Team. 
Three Years after the Intra Regional tournament, Sugihara Taki can be seen in chapter 212 as a member of the Japanese U-19 Representatives along with Takayama Shoei welcoming Sho back as he arrives back in Japan for the first time since the 3 years he had left. 
Playing Style
[
]
More than his behavior does, Taki's play easily betrays his true personality. He's good at getting rid of the ball quickly to avoid being physically pressured (in fact, he dribbles so rarely it earns a shocked commentary bubble when he does so in a game), and shows a clear preference for indirect tactics intended to mislead opponents. He maintains a clear understanding of the movement on the field and can position himself to steal with minimal effort because of it. He most often sets up plays and passes to the forwards, but will sometimes take shots on the goal to throw off the other team, usually with a tricky spin on it. His accuracy is well beyond junior high level, especially his passing; he can control not only the aim but also the power and spin of each individual pass precisely.
Trivia
[
]
His cheeks stretch when pulled on.