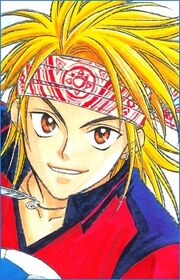 Shigeki Fujimura (earlier in the series his last name was Sato) or Shige, is a forward specializing in evasion and dodging techniques. He is said to be the one of the best players in the school. He quit the soccer club during his first year because the upperclassmen didn't play seriously, so he got bored playing. But after Shō joined the club, he decided it was interesting again and decided to rejoin. First appearance: Volume 1, STAGE. Later in the manga series, Shigeki and Shō are forced to play against each other at a select training camp. There you learn more about his past and who he wants to become.
Personality
[
]
Shige is never serious and usually jokes around a lot. He enjoys making-up nicknames for his friends. He often calls Shou pochi ('puppy' or 'pup'), and infuriates his captain by calling him "Tatsu-bon". He was initially the goalkeeper of Josui as there was no one else for the job, but was given the forward spot when Daichi came along. He has a thick Kansai-ben accent, and it is later revealed that he ran away from his home in Kyoto when he was young, making him a year older than most of his classmates. He now lives with monks at a shrine. His jersey number is 11.
History
[
]
Shigeki got an invitation to go to the Tokyo Senbatsu camp, but Coach Matsushita decided to reject the offer as he didn't feel that Shige was serious enough about soccer. Though he pretended not to care, Shige decided to become a serious soccer player and go for the pros after a talk with his old friend, Naoki. He also went back to visit his mother, back in his hometown. In the anime, since Shigeki finally became serious about soccer, Matsushita gave him a chance to play in the friendly match with the Seoul Senbatsu team. 
In the manga, which goes on for a bit further than the actual anime, Shigeki decides instead to begin playing soccer in his hometown, Kyoto. He changed his last name to Fujimura, and enrolled as a player from Kansai in the Japanese Toresen Tournament and played for the Kansai Select Team instead of the Tokyo Select Team that he previously played for, in order to face off against Sho Kazamatsuri & Tatsuya Mizuno his former teammates. 
Gallery
[
]