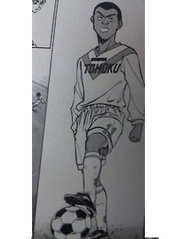 Kotarō Abe was a Japanese student and soccer player of African descent who played for the Tohoku Select Team, and later the Japanese U-19 soccer team.
Kotarō attended a school somewhere in the Tohoku district, where he was bullied. However, he had exceptional talent at soccer, and when his bullies found out about this, they accepted him, and became his friends.
Because of his natural talent and athletic prowess, Kotarõ was invited to join the Tohoku Select Team, and became one of their star players in his position as a foreward on the right wing. In a tournament against other regional select teams, he led Tohoku to victory against Tokai in the first round, but lost to Tokyo Select in the second round, after going into overtime.
Three years later, he was invited to join the Japan U-19 team.
Personality and Traits
Edit
Kotarō is a very exceptional athlete, who was shown to demonstrate amazing speed, stamina, power, and skill on the field. This prowess earned him the nickname "Black Cyclone" from amateur reporter Chika Asakura.
He is good friends with Yūdai.
On the Tohoku Select Team, he is number 11.