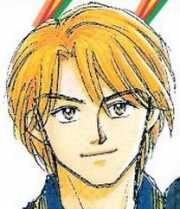 Kazamatsuri Kō was the older brother of Kazamatsuri Shō. Though he was though to be the pride and joy of the Kazamatsuri family and the son his parents had placed the most hopes on, he became a host instead of following their expectations.
First appearance: Volume 1, STAGE.1.
Trivia
[
]
His birthday is February 18, 1975.
He is 182cm tall and weighs 68kg.
He likes Korean grilled meat and stewed vegetables and hates durian.
His interests and abilities are reading books and handling things perfectly.