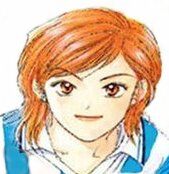 Katori Yuuko is the advisor for the Sakura Josui soccer team, though a self-confessed amateur at soccer. She is also Kazamatsuri Shō and Satou Shigeki's homeroom teacher.
Trivia
[
]
Her birthday is December 12, 1974.
She is 163cm tall and weighs 50kg.
She likes ginger toast pork and chocolate cake and hates mushrooms.
Her interests and abilities are collecting earrings, destroying things, making rash statements and being absent.