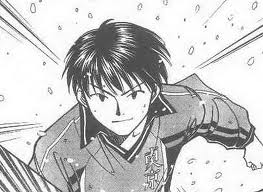 An offensive midfielder for Tokyo Select who was involved in the Rossa soccer club; his jersey number is 8. Though he initially appears arrogant in his interactions with Wakana Yuto and Sanada Kazuma, he proves to be one of the most levelheaded characters in the series. He is rivals with his Korean cousin, Yi Yun-gyeong.
Although he appears very tame and proper, he's prone to taking the phrase "smack some sense into someone" literally.
Appearances
Edit
Eishi first shows up in Vol. 12 IN THE DISTANCE when he scoffs at Kazamatsuri Shou and Sugihara Taki for getting excited over the turf.
Playing Style
Edit
Eishi's tactics are brutally direct, which sometimes makes them easily read, but sometimes makes them simply unstoppable. He very often sets up plays for Kazuma, and perhaps because of the association seems especially good at handling his more hot-headed teammates. He's well-rounded in terms of technical skills, with good technique and decent power, and has great shot accuracy when he goes for the goal himself. Contrary to Kazuma's instability, getting Eishi worked up will usually only improve his game.