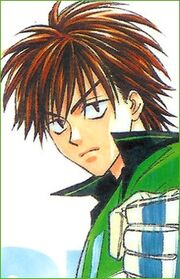 A member of the Sakura Josui soccer team, and later also the Tokyo Select team; his jersey number is 1 on Josui and 12 on Tokyo Select.
Daichi to Shou: "Should I dissect you?"
Appearance
[
]
Daichi is rather tall and has brown hair.
History
[
]
Unlike the majority of players in the series, Fuwa is a complete rookie to soccer and begins the sport shortly after meeting Sho. He is selected as a representative of Tokyo Select but fails to initially get in. He is brought in the team after the Korea Select match where Katsuro Shibusawa gets injured before the match and Kentaro Kozutsu gets injured during the match.